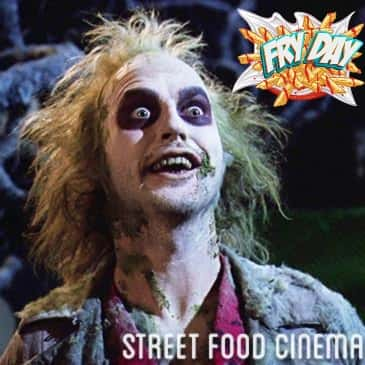 FryDay Food Truck and Beetlejuice for 1st Debut at Street Food Cinema
FryDay and Beetlejuice for 1st Debut at Street Food Cinema
Attention all foodies and film buffs! FryDay Food Truck is making its Street Food Cinema debut at the screening of Beetlejuice on October 8th, 2022. This is a night you won't want to miss!
FryDay Food Truck is known for their delicious and innovative loaded French fries and refreshing lemonades. From their famous pineapple lemonade to their mouthwatering watermelon lemonade, there's something for everyone at FryDay.
But that's not all. To celebrate their Street Food Cinema debut, FryDay is offering a special Beetlejuice-themed menu item for the occasion. Be sure to try their "Beetlejuice Churro Scream" dessert made with delicious churros, crushed Oreos, Salted Caramel, and melted Marshmallow," inspired by the film's iconic character.
As if the food wasn't enough to get you excited, the screening of Beetlejuice will be a unique and immersive experience. With the film projected onto a giant outdoor screen and plenty of comfortable seating, you can sit back, relax, and enjoy the show.
Don't miss out on this one-of-a-kind event. Get your tickets to Street Food Cinema's screening of Beetlejuice featuring FryDay Food Truck now!